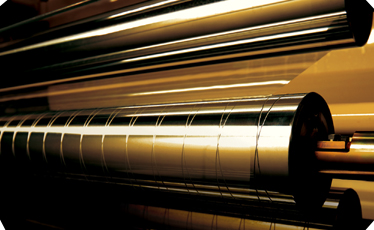 General Shiga Plant is both the company's main production facility and the heart of our comprehensive development capabilities.
As part of our commitment to creating products that stay ahead of today's evolving needs,
we are continually working to strengthen our development and manufacturing technologies and expand our production facilities.
These efforts already have helped General earn acclaim for innovative ink manufacturing,
coating, and slitting technologies, and our facilities are considered among the most advanced in the industry.
Our strategy is to constantly strengthen our technical capabilities while continuing to form cooperative, mutually beneficial relationships with companies in Japan and overseas.
This approach is fueling General growth as a pioneer and innovator in our field.
Precision, Efficiency, Innovation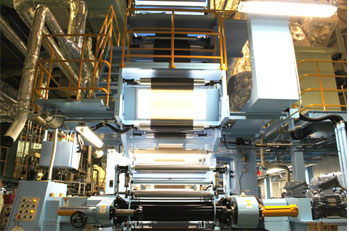 Our multicolor printer features some of the industry's most advanced high-precision technologies.
Comprising 12 coating sections, the printer mainly employs a direct gravure method suitable for plane sequential coating and stripe pattern coating. The unit's outstanding drying performance helps speed up the coating process, and its one-pass multi-layer coating ability ensures high cost-performance.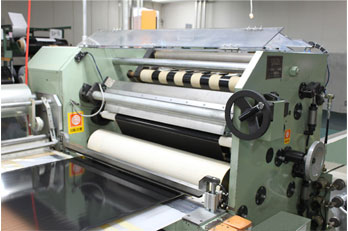 With around 70 slitters, including automatic units, our Shiga Plant is fully equipped to provide a stable supply of high-quality products.
We are working to further advance our slitting technologies to meet such demands as rewinding on paper cores,
molded plastic cores and special cores.
FACTORY PROFILE DATA

◎Manufacturing equipment
Solvent/hot-melt/compound coaters ・・・・・・・・12units
Laminate coaters ・・・・・・・・・・・・・・・・・・・・・・・・・・・・5units
Ribbon slitters ・・・・・・・・・・・・・・・・・・・・・・・・・・・・・・32units
Fabric ribbon coaters ・・・・・・・・・・・・・・・・・・・・・・・・2units
Thermal sensitive roll impregnation machines・・1units
Cutters・・・・・・・・・・・・・・・・・・・・・・・・・・・・・・・・・・・・・1units

Ribbon slitters・・・・・・・・・・・・・・・・・・・13units
Rewinders・・・・・・・・・・・・・・・・・・・・・・23units
Paper core cutter・・・・・・・・・・・・・・・・・・2units
Paper slitter・・・・・・・・・・・・・・・・・・・・・・・1units
Paper tube notching machine・・・・・・・3units
Form fill seal machine・・・・・・・・・・・・・・5units
Dryer・・・・・・・・・・・・・・・・・・・・・・・・・・・・7units
Fabric coating machine・・・・・・・・・・2units
◎Manufacturing equipment

Storage-type exhaust gas deodorization equipment
Dry dust collectors
Waste heat recovery equipment
Solvent recovery equipment

Solvent/hot-melt/compound coaters ・・・・・・・・2units
Ink manufacturing facility・・・・・・・・・・・・・・・・8units
Ribbon slitters・・・・・・・・・・・・・・・・・・・・・13units
Rewindersunits・・・・・・・・・・・・・・・・・・・・10units
Paper core cutter・・・・・・・・・・・・・・・・・・・2units
Paper tube notching machine・・・・・・・・2units
Form fill seal machine・・・・・・・・・・・・・・3units
Dryer・・・・・・・・・・・・・・・・・・・・・・・・・・・・・12units
◎Manufacturing equipment
ISO 14001 and ISO 9001 Acquisition A Reflection of Our Effective Environmental Systems
At General , protecting the environment and delivering
high-quality products are two of
the basic principles underlying our operations.
In accordance with our belief that environmental preservation is
one of our key social responsibilities,
we continually strive to improve environmental performance.
ISO 14001
JQA-EM1316
Shiga Plant
ISO 9001
JQA-QMA11341
Shiga Plant