Superior Products Backed by Advanced Technologies
At General , we have set in place rigorous control standards at each step of the production process.
This, plus the industry's most advanced equipment, help us achieve both outstanding production quality and exceptional operational efficiency.
As a result, General can promise customers a steady supply of uniformly high-quality products at competitive prices and with minimum lead time. And in all of our operations, General is committed to minimizing the impact on the environment.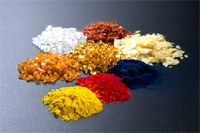 General uses around 1,300 different raw materials in our production processes, including resins, waxes and pigments. We ensure that each of these complies with Japan's Food Sanitation Law and the RoHS directives restricting the use of six hazardous substances. For each product we create, we carefully select the most suitable raw materials according to the specific application.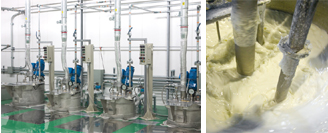 Our plant can pulverize and agitate up to 500 kg of materials at a time with precise temperature control. To ensure superior quality, we carefully inspect or monitor ink viscosity, melting point, solid content, particle size distribution and other variables throughout the manufacturing process.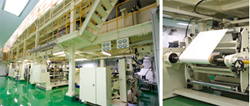 【P9】
Our laminating and multi-coating machine is
43.0 m long and 8.0 m high.
It can coat materials at a rate of up to 200,000 m/day,
making it the fastest class machine of
its type in the world.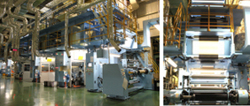 【MC6】
This high-speed coating machine is 27.6 m in long and 6.5 m high. Thanks to its outstanding drying performance, it can perform multi-layer coating at a swift rate of up to 500,000 m/day.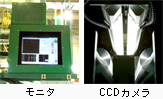 【Inspection system】
As part of our quality inspection and control system, we have equipped our coating machines with CCD cameras and our slitters with infrared sensors. We inspect products with rigorous care every step along the way, performing redundant checks in each process to assure that only top-quality products free of irregularities leave our plant.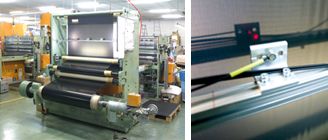 Our slitters can handle rolls of material up to 1,450 mm wide. Precise tension control and other high-precision electronic control functions help ensure that the width, length, shape and other characteristics of the finished products meet specifications with exceptional accuracy. Infrared sensors are used to check the density of the coating surface

【Inspection Equipment】
・Fluorescent X-ray analyzer ・Gas chromatograph ・Surface composition analyzer
・Various kinds of spectrophotometers・Particle size distribution measuring instrument 
・Liquid chromatograph ・Thermal analyzer ・Electron microscope
To ensure that our product quality is second to none, we have established rigorous control standards for every step of the production process. We monitor every stage of production and carefully inspect all finished products for irregularities. Our uncompromising approach to quality has earned General the trust of customers all around the world.

【DICCS Control System】
In July 2001 we installed a central distribution control system called DICCS at our Shiga Distribution Center. Products can be pre-assigned to a specific location in the distribution center, which then allows them to be located, retrieved and shipped immediately, regardless of their packaging type. This system significantly boosts shipping speed and efficiency.
Product Planning and Development Functions Linked to Our Production Facilities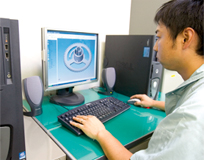 To keep pace with the rapid advancements in printing media, General continually monitors and analyzes market trends. Our extensive R&D activities let us quickly develop products with new functions that meet emerging customer needs. We have drawn on original technologies accumulated over many years to develop a powerful product planning and development system. This function is carried out at facilities right next to our production plant, which is a big advantage.
Qingdao Plant(China)
Equipped with automatic slitters and other advanced facilities, and drawing on the mutually supportive efforts of employees dispatched from Japan and employees from the local population, our Qingdao Plant in China matches the production level of our domestic plant and boasts the same quality control capabilities. The plant procures parts and materials from a variety of partner companies in Japan and China to help assure high cost competitiveness.